For many Filipinos, Christmas is a joyful season packed with reunions, get-togethers, and parties. It's the spirit of Paskong Pinoy!
As the whole country gears up for this festive time, however, some people find it hard to have a merry Christmas.
Financial stress, health challenges, or work and relationship problems could keep some of us from spending the holidays with their loved ones. It could create feelings of isolation and loneliness.
If you're feeling sad and alone, don't worry. You can still make the holidays merry and bright!
Here are 3 simple tips to ease your Christmas loneliness: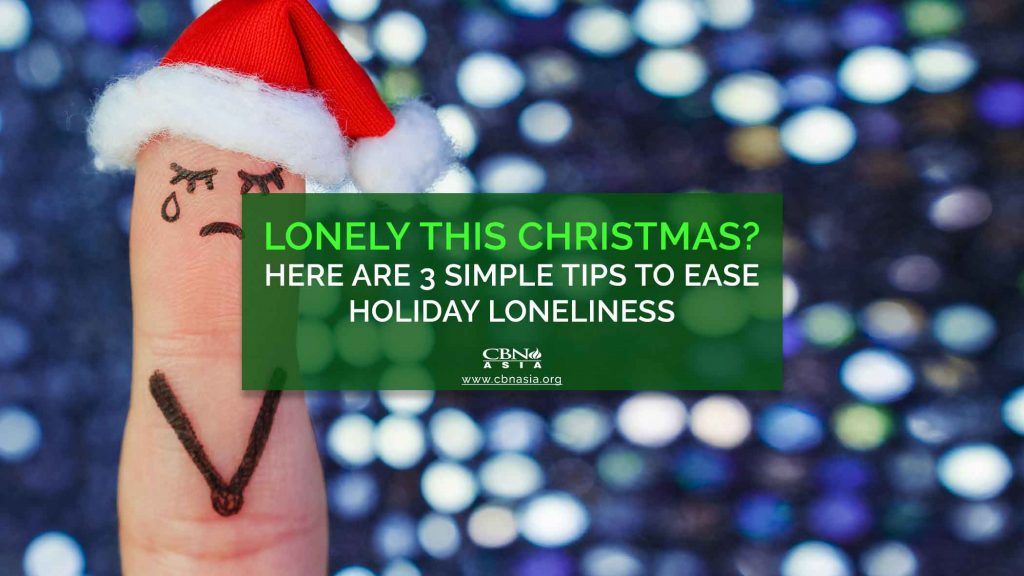 1. Ease loneliness through prayers
You are not as alone as you think. Through prayers, you could experience that Jesus Christ—the real reason for this season—is with you. You may be physically or emotionally away from others, but God promises that He will draw near to you as you draw near to Him.
Pour your heart out to God and allow Him to comfort you with His presence. Don't let loneliness win. Beat it away by expressing gratitude! Pray and thank God for His sustaining grace.
Isn't it amazing that even in all the chaos that happened, we're still alive and celebrating another Christmas? If you're feeling lonely this holiday, pray and thank God. Come close to Jesus and He will come close to You.
"Draw near to God, and He will draw near to you." (James 4:8 ESV)

2. Ease loneliness by reading the Bible
Are you feeling lonely this Christmas? Open and read your Bible.
The Word of God is one of the best sources of hope and comfort. The Center for Bible Engagement found that those who read the Bible four or more times a week is 30% less likely to struggle with loneliness.
So, when you feel lonely, consider taking at least 15 minutes at the start of your day to read Scripture and pray. God's character and promises are revealed through its pages, and you will find comfort in the truth that He is always with you.
"I will never leave you nor forsake you." (Joshua 1:5 NIV)

3. Ease loneliness by reaching out to others
If you're feeling lonely this Christmas, don't isolate yourself. And instead of waiting for others to reach out to you, go ahead and reach out to them!
First, reach out to your family and friends. Second, reach out to people who might be feeling lonely too, and build friendships. You can still be close to people in the time of social distancing! Check up on people because sometimes, one text or call is all it takes to encourage others and yourself.
Lastly, fight loneliness by helping others. The Clinical Psychological Science Journal affirms that helping others can reduce loneliness—so find joy in giving gifts, volunteering to outreach activities, or donating to families in need!
See how you can bless others in your own little ways and experience the blessing in giving.
"Whoever brings blessing will be enriched, and one who waters will himself be watered." (Proverbs 11:25 ESV) 
Are you feeling lonely this Christmas?
Find hope and joy while listening to Reverb Worship PH and Star Music's heartwarming single, Dahilan ng Maligayang Pasko! Stream the song on Spotify, Apple Music, Deezer, YouTube, and all digital streaming platforms worldwide.
For more updates, follow Reverb Worship PH on Facebook, Instagram, and YouTube.