Work together to fight against the COVID-19 pandemic through CBN Asia's humanitarian arm, Operation Blessing Foundation Philippines.
 Last March 22, amid strict quarantine guidelines and health risks, the OB team braved going to different hospitals to distribute Personal Protective Equipment (PPEs) and preventive care kits to help medical frontliners.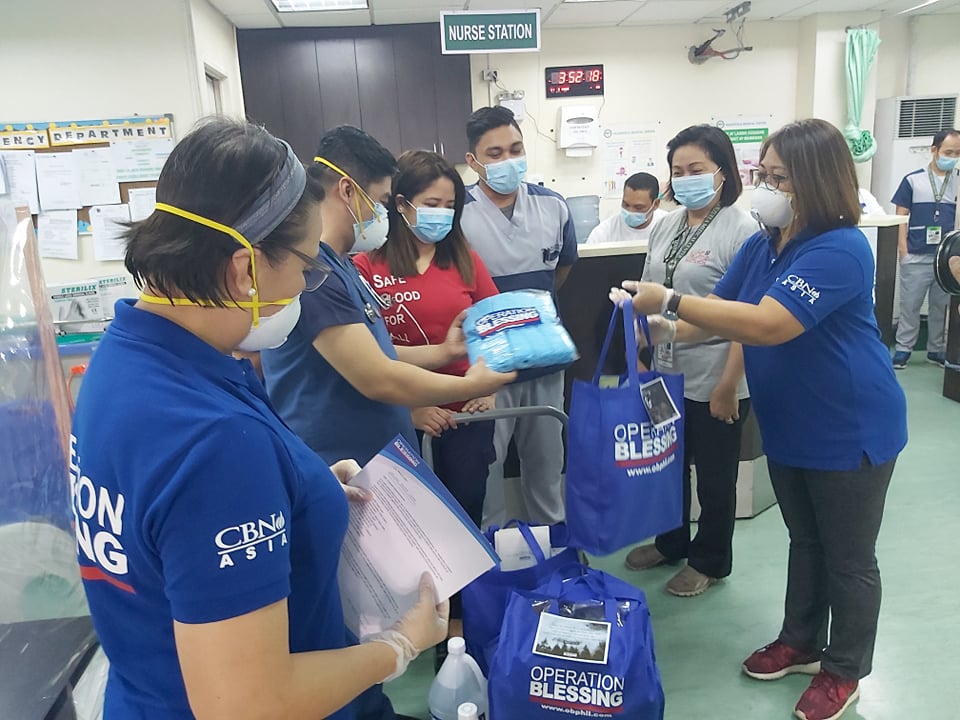 Nurses and doctors in Marikina Valley Medical Center, Valenzuela Medical Center, and Sta. Ana Hospital received much-needed alcohol, face masks, vitamins, and disposable gowns, caps, and shoe covers – to help keep the health responders safe as they selflessly and tirelessly care for kababayans who are in need of medical attention.
With hopes of lifting their spirits while serving the people, the OB team also encouraged and prayed for the frontliners.
Dr. Sheila Aranas, OB Programs Director, gave a glimpse of what was it like to be on the ground. "It was challenging to do the distribution because of the quarantine guidelines and the known risks of being exposed but personally, the worry of being exposed was superseded by joy in seeing that the beneficiaries were grateful and encouraged," she said.
As a medical practitioner herself, Dr. Sheila saw the ever-increasing need to support her fellow frontliners. The doctor added that she, too, was blessed by the courageous hearts of those who fulfill their duties during these trying times.
"The health care frontliners didn't know that I was also encouraged and blessed by their selfless commitment to serve beyond their duties! The nurses and doctors said they appreciated the PPEs but more [importantly], the prayers and encouragement," she expressed.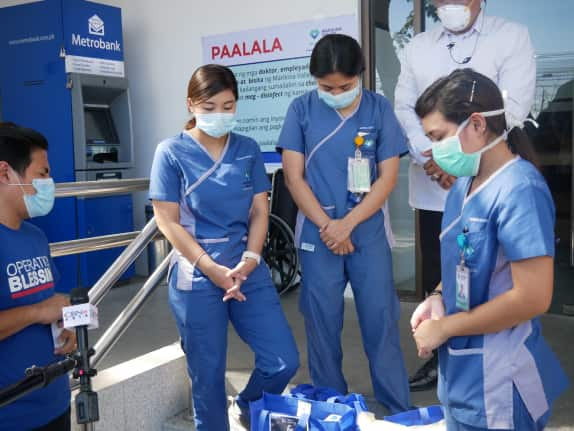 More frontliners need your help! Aside from participating in the enhanced community quarantine and taking good care of your health, you can support and protect these modern-day heroes by donating the following:
Surgical mask or N95 mask
Nitrile gloves
Goggles or face shields
Disposable surgical gown and raincoat
Disposable surgical cap
Disposable shoe cover
Isopropyl alcohol (70%)
Hand sanitizer
Soap for body and hands
Vitamin C
You may also donate online or send your monetary donations through Paypal ([email protected]), GCash (Operation Blessing), and the following bank accounts with account name: Operation Blessing Foundation Phils., Inc.
BDO: 0030000-55279
BPI: 3001-0040-33
METRO BANK: 270-3-27050273-4
UNION BANK: 00-216-072163-9
Help save lives by partnering with us now!
For more information, you may contact these numbers: (+632) 8663-4701 / (+632) 8663-4710 / 0939-921-5543 or send an email to [email protected]. You may also visit Operation Blessing's website and Facebook page.
(DSWD Authority/Solicitation Permit No.:DSWD-SB-SP-00018-2020)