Gizmo once again embarked on an extraordinary adventure to spread the love of Jesus to children everywhere!
Recently, the lovable robot from Superbook visited Lipa, Batangas. The "Gizmo on the GO!" event prepared by the Superbook team ignited the hearts of Filipino families and young fans—through an unforgettable experience filled with games, activities, and the powerful message of the gospel.
Among the eager attendees was Ernest Buenviaje, an energetic 10-year-old who considers himself a certified Batang Superbook.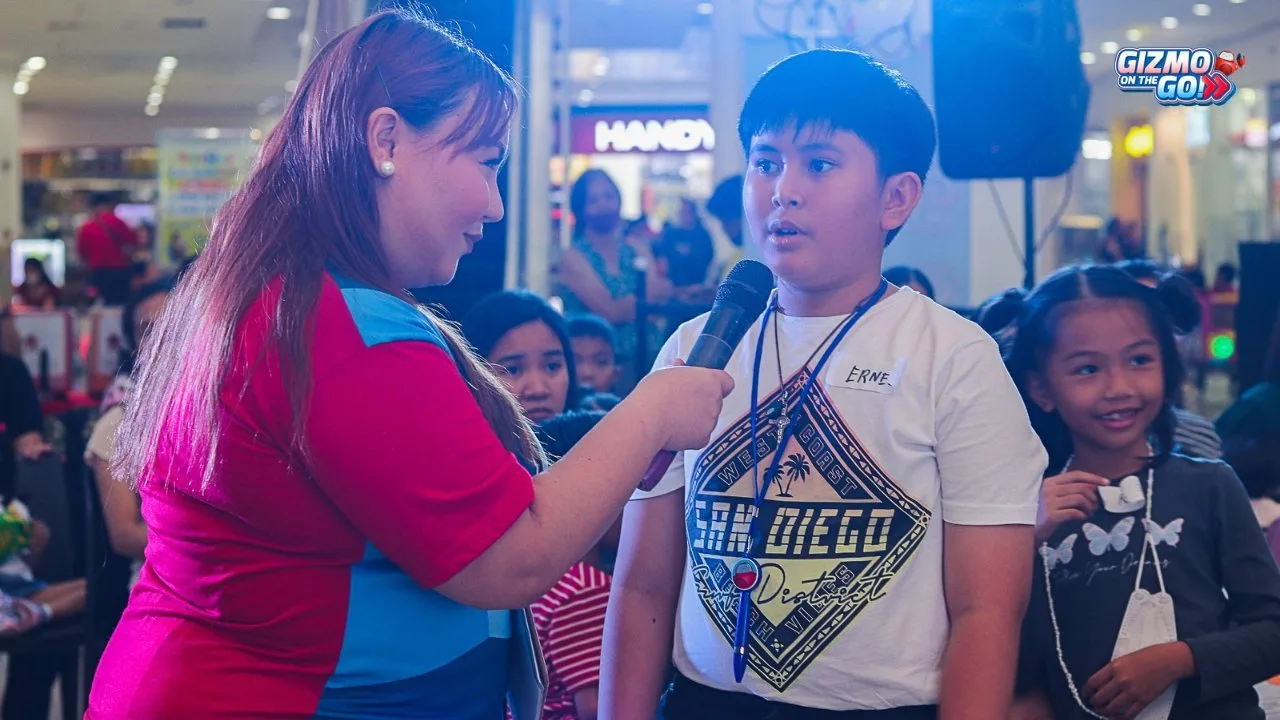 "I enjoy watching Superbook because it teaches valuable moral lessons that we can pass on to future generations as we grow older," Ernest shared.
Just like Ernest, a lot of children had fun as they dived into a world of Superbook wonder in different stations inside the activity area. Aside from entertainment, the activities prepared for the kids taught them valuable lessons.
The Creation Station, a hub of creativity, delighted them with Superbook-themed coloring pages that came to life with their vivid imaginations. The Arcade Station experience was a blast as they engaged in Superbook games. The Photobooth Station captured the joyous moments of children as they proudly showcased their artwork from the Creation Station.
The highlight of the day was an exciting game called "Gizmo's Lab," where Ernest emerged as the winner! When asked about his secret, he humbly shared, "I prayed before playing the game, like how I pray before taking tests in school."
It wasn't just about games and fun. Superbook left a lasting impact on the young hearts as they gathered to watch the lesson-filled episode, "The Good Samaritan." Through this story, they learned the powerful message of kindness and helping others, no matter their differences.
The crowd erupted with joy as Gizmo showed up on stage!
They sang and danced to "The Salvation Poem," creating an atmosphere of celebration and praise. Gizmo's heartfelt invitation to receive Jesus as their Lord and Savior touched the children's hearts and many responded with a resounding "Yes!"
As a token of appreciation, the children received Superbook gift bags, filled with treasures that would continue to inspire their faith journey. The bag included bread, chips, juice, a copy of "Book of Hope" and Superbook stickers.
And of course, who could miss the chance to capture a memorable photo with their beloved robot friend, Gizmo?
Once again, Superbook's "Gizmo on the GO!" brought smiles, laughter, and life-changing moments to children and families. It's a testament to the incredible impact Superbook has in sharing the love of Jesus and teaching valuable life lessons.
Join us in our mission to reach more children and families across the Philippines with the life-transforming power of Superbook. Partner with us today and be a part of this incredible journey!