There has never been a more important time to keep the bayanihan spirit alive.
During the pandemic, many people lost their lives and livelihoods, their health and well-being suffered, and it stalled our children's education and even the global economy. Nearly two years on and the pandemic continues to wreak havoc on everyone's lives.
So, if you are wondering why we need bayanihan imore than ever, here's a quick answer: bayanihan saves lives. And through your donations to charities and organizations like the Operation Blessing Foundation Philippines, you help keep that Filipino spirit alive.
There are many more reasons to keep lending a hand, and here are a few more:
Bayanihan alleviates people's suffering
Life was already difficult for many Filipinos, even before the pandemic. So when Severe Tropical Storm Maring—known internationally as Kompasu—ravaged the northern parts of Luzon last month, many of our kababayans had to rely on others' help to get through the day.
Because of your bayanihan with Operation Blessing, we were able to give relief to families affected by the typhoon. The disaster response team visited Barangay Maynganay Sur in Sta. Maria, Ilocos Sur last October 28 and delivered much-needed food bags to help our starving kababayans.
Bayanihan sparks hope
Persons with disabilities are among the most vulnerable, and also often the most in need of support like medications and medical devices like wheelchairs.
Thanks to your help, Operation Blessing was able to give them the gift of mobility!
In partnership with the Local Government Unit of Piddig, Ilocos Norte and a local church partner, persons of disabilities received brand new wheelchairs last week. Through your support, we can  wheelchairs to more of our kababayans to so they could have freedom of movement and independence.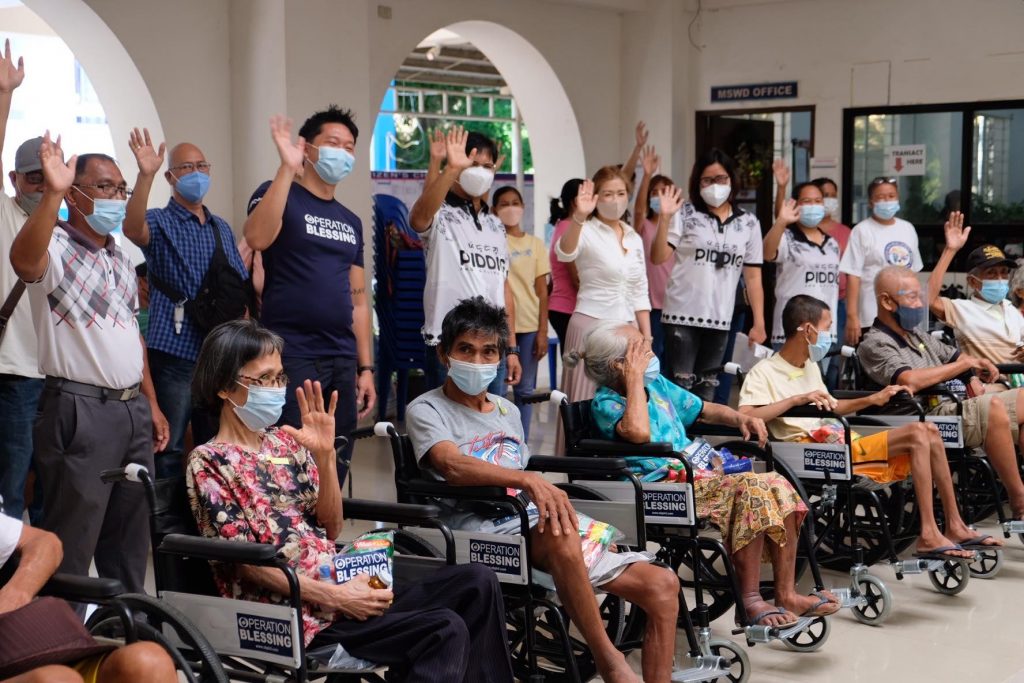 Bayanihan rebuilds lives
According to Philippine Statistics Authority, almost 4.14 million Filipinos lost their jobs during the pandemic.
Some of our kababayans in Mindanao are among the people struggling to make ends meet. And though are doing their best, most of them still have a hard time finding comfort, relief, and hope that they can rebuild their lives.
Your giving helps them get back on their feet! Last week, our brothers and sisters in Balagonon, Bansalan, Davao del Sur received lifesaving supplies and much-needed encouragement from Operation Blessing.
Through tangible relief and uplifting words and prayers, jobless and disaster-affected families in Davao del Sur were comforted and encouraged to rebuild their lives.
Why is bayanihan important in this time of pandemic?
Bayanihan is important because it shows the heart of Filipinos – a heart of generosity, unity, and compassion to deliver hope where it's needed most.
Keep the bayanihan spirit alive by partner with Operation Blessing today!
You may give through Operation Blessing's website or through the following bank accounts with account name Operation Blessing Foundation Phils., Inc.:
Banco De Oro (BDO)
Peso Account: 003-000-055-279
Dollar Account: 103-000-11-3333
Swift Code: BNORPHMM
Union Bank of the Philippines
Peso Account: 00-216-072163-9
Dollar Account: 13-216-000170-0
Swift Code: UBPHPHMM
Metrobank
Peso Account: 270-3-27050273-4
Dollar Account: 270-2-27000282-4
Swift Code: MBTCPHMM
Bank of the Philippine Islands (BPI)
Peso Account: 3001-0040-33
For more information on how you can donate or sponsor, call 0939-921-5543 or 0918-906-7753.
(DSWD-SB-SP-00035-2021-Nationwide)