With hopes of preventing the spread of the Corona Virus Disease 2019 (COVID-19), President Rodrigo Duterte has placed Metro Manila under a 30-day community quarantine which started last March 15. 
During the community quarantine, classes and other forms of mass gatherings are suspended. Travelling has now restrictions and social distancing is also being practiced. Workers are even encouraged to work from home – leaving much time for Filipinos to stay indoors. 
To help make your time at home a productive and meaningful one, here are 5 things you can do during the community quarantine: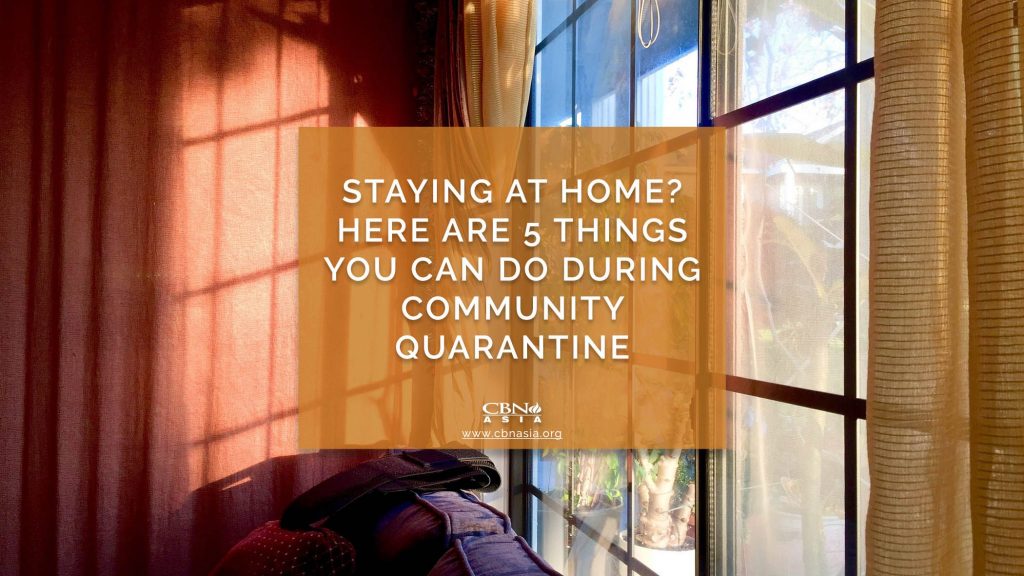 1. Rest 
COVID-19 is a contagious and deadly disease. While we are advised not to downplay the situation, let us not allow fear to cripple us, too.  
Panic is already taking its toll on people's minds. So, stay calm as much as you can and do something that lifts your spirit.  
Play your guitar, read a book, listen to your favorite worship song, or catch on that much-needed sleep. Take this time to recuperate and enhance your physical, mental, and spiritual well-being.  
Rest in God. As said in Matthew 11:29, "Take my yoke upon you and learn from me, for I am gentle and humble in heart, and you will find rest for your souls." 
2. Moderate 
Social Media Use
Feeling bombarded by a lot of information about COVID-19? Feeling saturated by unverified or fake news? 
Perhaps, it's a good sign to limit your time online. Log out and take a break from social media or follow only credible news sources and verified pages. 
3. Clean
 up
Aside from taking good care of your personal hygiene, you may also want to tidy up your surroundings.  Declutter your room or your closet. Disinfect your household to protect the family and keep yourself occupied.  
Take this time to be reminded of how God has also made you a steward of your environment. 
4. Spend time with 
your 
family
Create meaningful conversations with them. Listen and empathize with their fears, check up on each other's queries, and talk about your concerns. 
Being on the same page with your family members could help straighten out worries. If a loved one is on a self-quarantine and isolates themselves, checking up on them even through calls or texts to make sure they're okay could mean a lot. 
You can also plan simple indoor activities for everyone. Exercise, play games or eat together.  
5. Pray intently 
Most importantly, ask God to protect you and your family. Ask Him to remove fear and panic in every household. Pray that He heals the sick, comforts the scared, and provides for the needy. Also, pray for wisdom in the decision-making of the country's leaders, health workers, and the front liners who selflessly sacrifice their time to help fight this pandemic. 
Pray that God will turn this difficult time into a good, that people will seek and be drawn into Him and His saving glory, as what the Bible says in 2 Chronicles 7:14, "If my people who are called by my name humble themselves, and pray and seek my face and turn from their wicked ways, then I will hear from heaven and will forgive their sin and heal their land." 
Pray, in the Name of Jesus, for the spirit of God to reign in this land – because He is the spirit of peace, comfort, and protection. 
Time flies – as the saying goes. However, during this entire community quarantine, the days could seem so long.  
You don't have to spend those long hours worrying! Pray without ceasing and respond in faith that God will reveal His glory and greater purpose in these trying times.
Do you have any prayer requests? You may message the CBN Asia Prayer Center or call 8737-0700 so we can pray for you.