The most wonderful time of the year is upon us once again.
Everywhere you look, you see people happy and excited for parties and gifts.
And then, even in the glow of Christmas lights and holiday festivities, there are also people who are dealing with loss, anxiety, and depression. Are you one of them?
According to Kendra Cherry in her article on Very Well Mind, people who are anticipating the holidays can also experience the blues during this time.
One of the signs and symptoms of holiday blues is the repeated feeling of sadness at the start of the holidays. A few symptoms of this are changes in mood, appetite, and sleeping patterns at around November and December.
So, if you are feeling blue this holiday season, here are a few tips to help you cope joyfully this time of the year:
1. Set Boundaries
Large gatherings and other compulsory corporate or social events may seem overwhelming these holidays.
It's hard to avoid the flood of party invitations from co-workers, former schoolmates, or even family reunions coming from everywhere.
Psychologist Dr. Dawn Potter through Cleveland Clinic said in an article that one of the ways to cope with holiday stress and depression is to set boundaries.
Dr. Potter said that it is alright to decline invitations to events or parties you are not comfortable attending.
Being honest about how you feel could help you cope and eventually find peace amid your holiday blues.
2. Connect to people
As much as you want to limit your interaction this holiday season to avoid being overwhelmed, fight the urge to isolate yourself from others.
The Mayo Clinic encourages us to reach out through chat or call to close family members and our trusted circle of friends to help decompress the emotional stress building inside us.
You can also seek company from online support groups where you can meet new people even in this pandemic.
Aside from these groups, try joining social events that interest you or even volunteering for programs to help others.
Joining these activities could give you a new environment and perspective, as well as widen your network with new people.
3. Let go of the past
Sometimes, holiday blues come from past holiday experiences.
So, if reminiscing about the good (or bad) old times of holidays is negatively affecting your mental health, let it go.
In Counseling Today, licensed Professional Counselor Esther De La Rosa Scott said that positive actions combat holiday stress. One of these positive actions is letting go of the past.
Everything changes. Every holiday has its own unique story, and you should embrace and enjoy each one.
Furthermore, she said that you should not be disappointed in yourself when your holidays are not the same as the ones you used to have.
Instead of focusing on past events, write down your present blessings and things you are grateful for.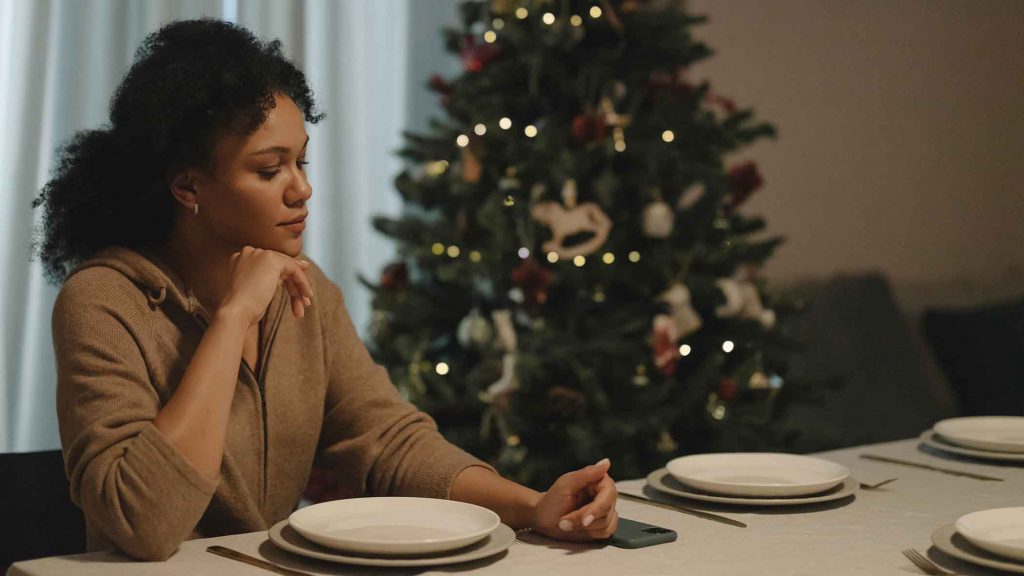 4. Rest and recharge
Holidays are not requiring you to stay active all the time. You can also use this season to rest and recharge your body.
While most of the people are taking this time to party all night, go ahead and take this time to have quality sleep. Embrace JOMO (the Joy of Missing Out) to get some rest.
Schedule 15 to 20 minutes of your day to enjoy quiet time. Spend a few minutes doing some of your favorite stress-relieving activities such as reading a book, listening to music, or strolling outside.
Find rest in the presence of God. After all, Christmas is about the birth of the Savior who can redeem you from all your burden and pain.
Come to me, all you who are weary and burdened, and I will give you rest. (Matthew 11:28 NIV)

5. Be honest with God in your situation
As you come to the Lord, the best thing to do when you are feeling blue is to open your heart to Him.
Release every bit of sadness to Him comfort you. Go ahead and confess to Him your heart's desires through prayer.
As you spend time with God, your heart finds rest and clarity. God's presence can bring you peace even in the midst of the busy atmosphere this holiday season.
If you are feeling blue, remember this Word of God from Philippians 4:16 "Do not be anxious about anything, but in every situation, by prayer and petition, with thanksgiving, present your requests to God."
Let go and let God.
Do you still feel sad and lonely this holiday season? Know where you can find the ultimate comfort and peace.
Let us also pray for you! Call the CBN Asia Prayer Center at 8-737-0-700 or send your prayer requests to our Facebook page.
May you experience the joy of the Lord this holiday season!