Singer-songwriter Rhea Rodriguez is calling on all Filipinos to look beyond colors, celebrate unity, and declare God's sovereignty over the nation with her latest single titled, "Pilipinas Natin 'To." The song is set to hit the airwaves this Friday, April 29!
Striking a chord with its ethnic, hip hop-rock vibe and lyrics that evoke nationalistic pride, Pilipinas Natin 'To seeks to inspire unity across the country during these divisive times.
The Bikolana creative teamed up for the first time with rising rapper Elai—who blended his breakthrough wordplay perfectly into the song—making it the newest anthem that will surely stir the listeners' heart for country and faith in God.
"I hope that this song may move you to seek God and pray that He may use us to send His hope to our nation," shared Rhea, who inspires others with her advocacies centered on Christian faith, nation building, and planet care.
The song is released under Reverb Worship PH, CBN Asia's music arm, and arranged by award-winning musical director, Mon Faustino.
CBN Asia's Executive Vice President and Chief Operating Officer John Valdes Tan hopes that through the song, Filipinos will be inspired to reconcile and pray for the betterment of the country.
"During election season, people are divided over their choices of leaders. Pilipinas Natin 'To reminds us that despite our differences, we should unite as Filipinos and seek His righteousness so that the Lord will bless the Philippines. I believe this song is a message from our Lord. Its timely message is what our nation needs to hear right now."
Be inspired to stand as one nation under one God. Pre-save Pilipinas Natin 'To by Rhea Rodriguez featuring Elai, and stream the song on April 29 on Spotify, Apple Music, Amazon Music, Deezer, and YouTube!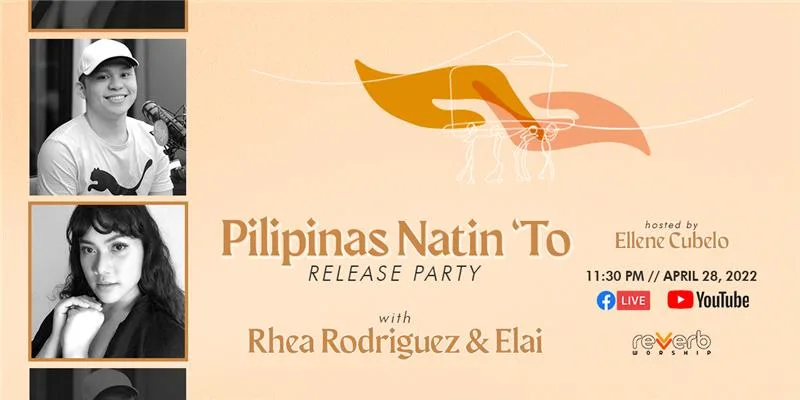 Join the release party on April 28, 11:30 pm, hosted by Ellene Cubello, LIVE on Reverb Worship PH's Facebook page and YouTube channel.
To catch the latest updates about the song's release, follow Reverb Worship PH on Facebook, Instagram, TikTok, and YouTube.