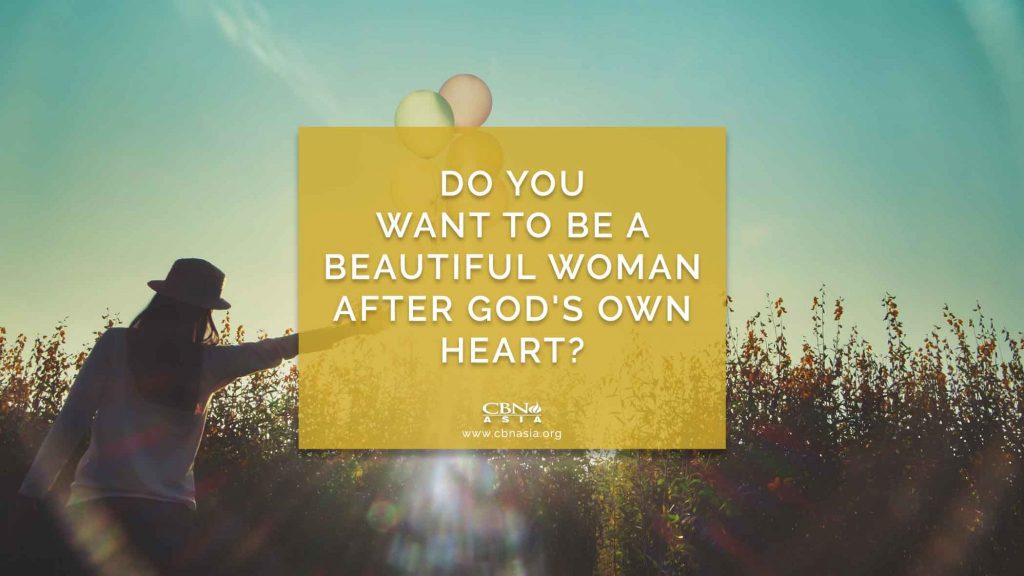 Confident. Beautiful. With a heart of gold. 
These are some of the words females usually answer when asked about the type of woman they wish to be. 
You might ask: is there a guide that could help you become that woman? Moreover, can a confidently beautiful woman also take after God's heart?
To help you with that, here are some lessons from inspiring women in the Bible to guide you on becoming the beautiful woman God designed you to be: 
1.Be a
W
oman of 
P
rayer
 like Hannah.
Deeply saddened by her barrenness, Hannah wept bitterly, fervently prayed for a son and promised to offer him to the Lord all the days of his life (1 Samuel 1:10-11). God honored her faith-filled prayers and she gave birth to Samuel – who then became a great prophet and judge in Israel. 
The story of Hannah teaches women that honest and faithful prayers honor God.  
Be like Hannah. As you delight in God, be expectant that He, in return, will honor the desires of your heart! 
2. Be a
W
oman of 
F
aith
 like Ruth.
When her husband died, Ruth refused to leave her mother-in-law, Naomi. Even though a new environment awaited her, Ruth faithfully followed Naomi to Bethlehem and trusted the God of her in-law that there is a purpose behind their affliction. 
Ruth had no doubt that God will provide for them. Day by day, she worked hard in gathering leftover grains in the field of a man named Boaz, who later became her husband. 
The story of Ruth inspires modern women to believe that amid seemingly bad situations, God can demonstrate His faithfulness to the faithful ones. 
Look at the bigger picture and be full of faith! God has a purpose behind your every struggle. He has a greater plan for your future. 
3. Be a W
oman of 
C
ourage 
like Esther.
Esther was an orphan who grew up to be a courageous queen of Persia. She was appointed for "such a time" to fulfill God's purpose of saving her people (Esther 4:14). 
Even when it could cost her life, she obeyed God and bravely faced King Xerxes.  
Her story reminds modern women to be strong and courageous because it is God who will go with them wherever they go. Take heart and be excited about how God will use you in leading others into salvation just like Esther. 
Most importantly, as said in (1 Peter 3:3-4), "Do not let your adorning be external—the braiding of hair and the putting on of gold jewelry, or the clothing you wear— but let your adorning be the hidden person of the heart with the imperishable beauty of a gentle and quiet spirit, which in God's sight is very precious."  
Did these godly characters encourage you to surrender to God? 
If you want to discover more about Him, you may now begin your first step to peace or call the CBN Asia Prayer Center.